Regions are the root elements of the Tree and is where you need to add the overlays that will compose your graphics.

Properties
Regions can only be added at the root level, these cannot be added within another element.
It can only contain Overlays, no other elements.
Regions appear in the Canvas limited with dotted lines as they are intended to be used as a guide. In the live version, Regions are not visible.
We recommend giving it a name that refers to the type of elements it is going to have and the position on the screen, eg. "Lower third".
Scene templates come with default Regions (suggested layouts) for several types of graphics that can be created. These templates can be modified either by adding more Regions from the Building Blocks list or by deleting the ones that you are not going to use.
Regions are not static elements, you can change its position and size.
Stacking order in Regions means that the elements inside a higher region in the Tree overlap the elements inside a lower region.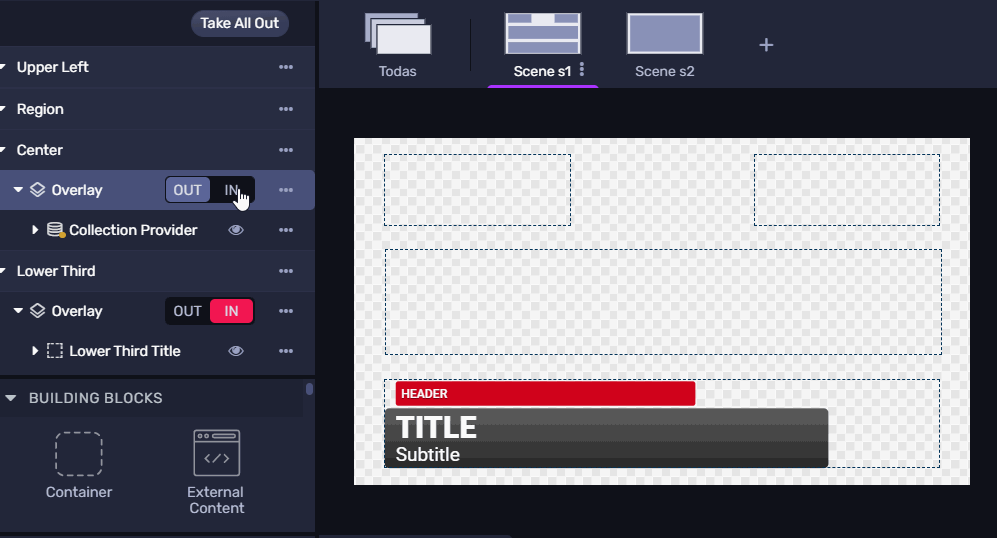 When selecting a Region from the Tree, the region is highlighted in the Canvas.