With Flowics you can output on vMix, graphics through a NDI workflow.
In this article we will show you a step by step guide to complete this integration. 
Requirements
Having installed vMix. Download it from

https://www.vmix.com/software/download.aspx

Viz Flowics output URL


Configuring the NDI output
Let's take into account that our Flowics graphics have been loaded in input 1.
If you have questions about how to do this process, please check this link. 
So we have our graphics at input 1.
Now we have to go to the Settings section in the upper right (1) and in the window that opens we go to Outputs / NDI / SRT (2).
(3) We click on the drop-down menu of output 1 and select input 1.
(4) Then we click on the settings button for NDI Output and a new window will appear.
(5) Here we go to the menu where labeled as Alpha Channel and we select the desired option.
The following must be taken into account:
None: Send the NDI output without Alpha Channel.
Straight: Send Alpha Channel information but Fill is intact.
Premultiplied: The Alpha Channel is "Premultiplied" meaning the main graphic will be already with the corresponding transparency.
In this case our graphic has alpha channel so we select straight.
 (6)Finally we turn on the NDI output.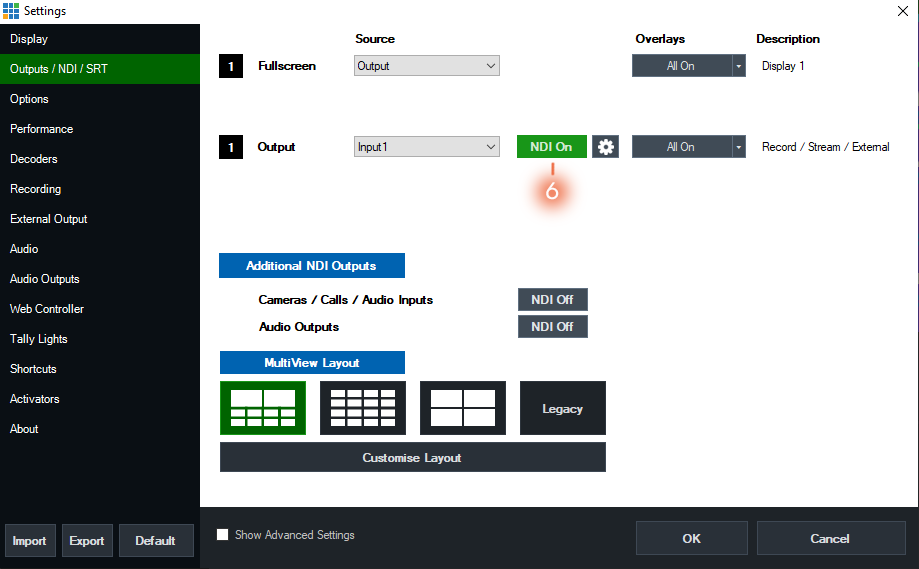 When we have completed the configuration, the application must be restarted.
Once the application has restarted we will be able to see the NDI output available on our compatible systems.
For more details on how to use NDI with vMix you can watch this video.